How Joan Torres Makes $5k+ Blogging & Touring Off-The-Beaten-Path Destinations
When you buy something through one of the links on our site, we may earn an affiliate commission.
When Joan Torres' marketing job relocated him from Barcelona to Dubai, he couldn't have imagined how the next few years would play out. He took advantage of his new location as a base from which to travel to lesser-visited destinations. Still, he found himself frustrated by the lack of information available on those countries.
So, he set out to remedy that by starting his own travel blog: Against the Compass.
His blog did so well that he decided to branch out and start offering organized tours to "destinations your mum wouldn't be happy about." Today his blog is bringing in $5k+ per month, and his tours are earning considerably more.
Keep reading to find out:
Where he started traveling to
How he prepared to quit his job
How he learned about travel blogging
How much his blog earns
How much his tours earn
Which affiliates have the best payout
How he approaches branding
How he launched his travel company
His thoughts about link building
How he manages his email list
How often he works on his business
His biggest challenge
His main accomplishment
His greatest mistake
The advice he would give other entrepreneurs
Meet Joan Torres
My name is Joan, I'm 35 years old. I also have a 20-month-old son. We are currently based in Barcelona City, but we travel a lot.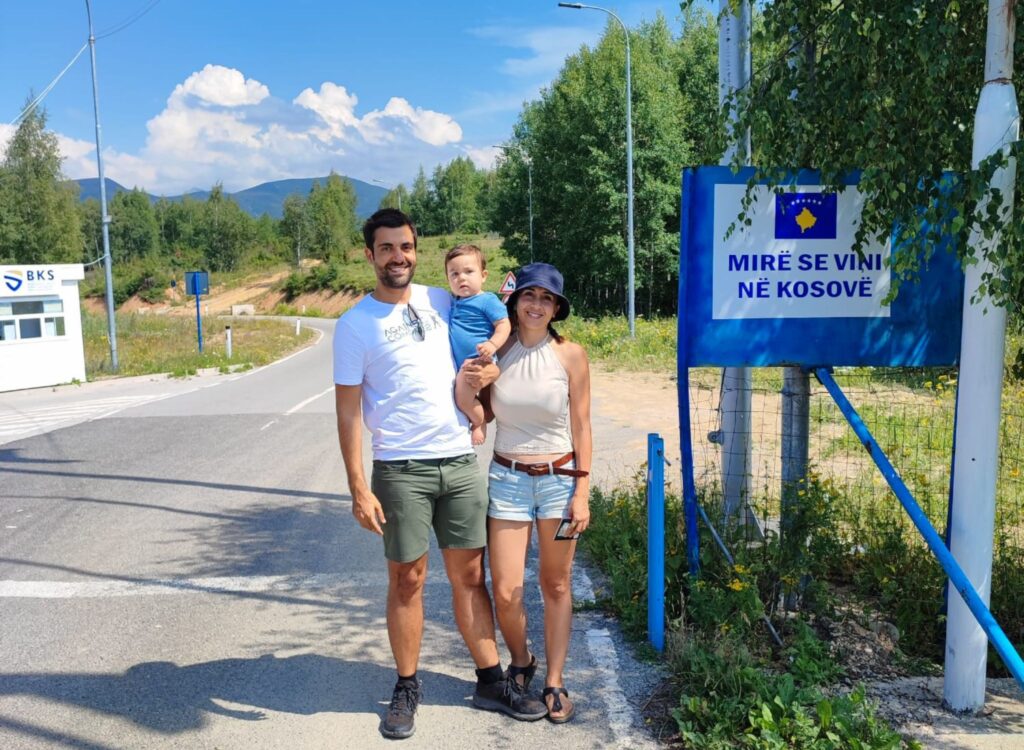 In 2014, the company I was working for in Barcelona sent me to their office in Dubai, where I lived and worked for the following 3 years, working in 2 different European-based international companies.
I quit my Dubai job in 2016, and I've been traveling and running an online business ever since.
My professional background is purely marketing and brand management.
Why He Created Against the Compass
Essentially, Against the Compass is a travel blog that focuses on providing useful information, travel tips, and actionable advice for barely visited destinations such as Yemen, Syria, Mauritania, and Pakistan.
I launched it in October 2016 and then, 5 years later, in 2021, I created a travel company to offer tours to some of those unique destinations.
As for the "why," I have always had a sense for adventure, so during my stay in Dubai, I used to take a lot of short trips to relatively nearby destinations such as Lebanon, Iraq, Kurdistan, and Iran.
I used to check a lot of travel blogs as well for all my travels, but I was surprised that, at that time, there wasn't any online content on those barely visited countries.
Meanwhile, I learned that many travel bloggers were making an actual living from it, so one day, I decided to quit my job and start a travel blog named Against the Compass, whose main aim was covering that empty niche.
As for the "how," it's important to highlight that when I quit my job, I had saved $40k. As a budget backpacker, that was more than enough for traveling for two full years at least, buying proper camera gear, and allocating a few thousand to create a travel website.
It's also important to highlight that I didn't just buy a domain and start writing articles right away. A couple of months before quitting my job, I started to build a marketing plan with the final objective of becoming the blog of reference for off-the-beaten-track destinations.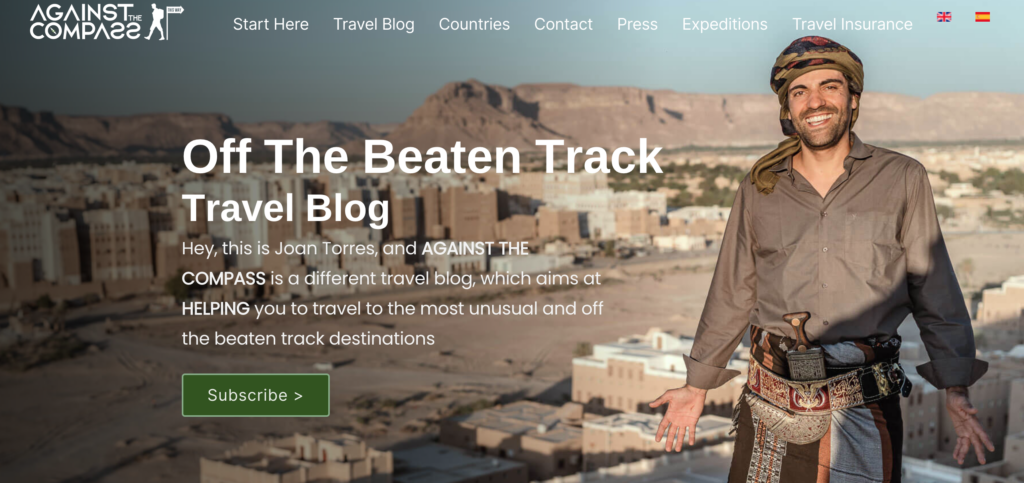 The blog wasn't officially launched, but I had been working on it 5 or 6 months before I quit my job.
The blog name didn't come overnight but was the result of more than a few weeks of brainstorming, trying to find that name that inspired adventure in a clear but dynamic way.
I signed up for a travel blogging course (it doesn't exist anymore) which was extremely helpful in showing you the right steps to take from the beginning and getting basic knowledge about WordPress, SEO, and travel writing.
I also learned that if you ever want to become successful in the blogging business, you must offer something useful to your readers, something your readers can't live without, and something your readers will want to bookmark.
How Much Joan is Earning from Blogging
When talking about income, it's important to differentiate between blogging and running tours.
Today, my blogging income is less than what it used to be before, and the reason is that I switched my focus from blogging to running tours.
Running tours are a much more profitable business, not only in terms of revenue but also because this is something you can keep doing in the long run.
In January 2020, my blog was getting 240k page views a month, and I was making up to €7500 a month, depending on the month, but I'd say that €5000 was the average during the last months before the pandemic started.
Up to when I started running tours in November 2021, all my earnings came exclusively from blogging, including things like:
Affiliate marketing (40%)
Ads (35%)
Link selling (10%)
Freelance writing (10%)
Selling ebooks (5%)
During the pandemic, from March 2020 until June 2021, affiliate revenue was very little, but I still made a decent amount on ads. Plus I began to get into freelance writing, especially for Lonely Planet.
I wrote several online articles for them and 5 chapters of one of their guidebooks, for which I earned €5400.
Today, I stopped accepting sponsored content and selling links and ebooks, and I don't do any freelance writing anymore. Now, I just focus on promoting my top 3 high-performing affiliates: IATI Insurance, Booking.com, and ExpressVPN.
SEO is still an important part of my daily job since many of my customers find me on Google, so I still work on increasing traffic, which also translates into more earnings from Mediavine, the ad network I use.
In March 2023, I made around €4000 only from ads, IATI Insurance, and booking.com.
How Much Joan is Earning from Tours
This is too private. I'd rather not say, but obviously, much more than with blogging, and the way it works is that usually, you add an additional % to the cost per person, but you also need to take into account your personal expenses and taxes.
In 2022, I ran 18 group tours (averaging 12 people in each), plus dozens of private tours.
In 2023, as of April, I have already run 12 tours only in the first 4 months of the year.
While it depends on the specific tour when I organize them, it usually includes:
Accommodation
Local guides
Transportation
Main meal
Visa support, LOIs, etc.
Airport transfers
They can last from 6 to 14 days.
It's very time-consuming the first time you organize one, but then it's easy. You also need the help of a local person to make all the bookings.
His Top Marketing Strategies
In a word: branding.
Working on building and shaping the Against the Compass brand has been my #1 marketing strategy, and that's something not many people do.
Brands are like people; they have personalities and emotions and create relationships with other people. People have opinions on brands and like or dislike them based on their personal preferences.
I am confident that today, Against the Compass is a well-established brand followed by adventurous and responsible travelers willing to get out of their comfort zones to travel to the most off-the-beaten-track destinations.
There are many people who feel identified with ATC.
The brand name suggests traveling to unknown places, and readers trust the information found on the website because we've also worked really, really hard on EAT by providing extremely detailed and updated honest advice about a lot of unique destinations, covering a travel niche that had always been pretty empty.
This is the reason why Against the Compass Expeditions has been pretty successful since we launched it in 2021.
It's also important to highlight that despite being a travel blog, I've never been the main protagonist but rather the destinations and the brand, and this has been extremely helpful for running tours.
Many of our customers joined my tours because of Against the Compass, not because of Joan Torres, and that's invaluable and absolutely priceless because of 2 things:

I can delegate this job (leading tours) to other brand representatives, which is what I currently do
In the future, it will be much easier to sell the company, something which is already in my plans, but not within the next few years

Keyword Research and Link Building
To be honest, I don't think I am doing anything really unique here other than spending hours looking for keywords through a tool named KeySearch.
Link building has always been an essential part of my SEO.
In the initial stages of blogging, I used to be pretty active in travel blogging FB groups. These groups were particularly useful for link exchanging and participating in collaboration posts.
I used to do a lot of guest posting for high-authority travel blogs, too. This was useful not only for getting some link juice but also for networking.
However, I also believe that if you only get links from within the travel blogosphere, you'll never get very far, so today I changed my focus to getting more links from websites outside the travel niche, which is what I am doing as I answer this interview.
This 2023, I got very valuable links from media outlets like The Guardian and France24, links pointing to my Syria content, my best-selling tour.
They just reached out or linked naturally, but when I get approached by a journalist, I make it #1 priority. I believe there aren't many websites/blogs/travel companies working on those destinations, meaning that if you offer something different, links will come naturally
My short-term goal for 2023 is to hire a link-building expert to do some proper media outreach to get more links.
Joan's Content Creation Process
This is simple: I travel to a new place and write travel guides about it, based on what people search for on the internet.
This could be anything from travel tips to a certain destination to "best hotels in X."
I don't travel to a place based on what people search. I travel where I want to, and then I write based on what people search for or whatever content is useful.
I don't have a goal of publishing a certain amount of content; my only strategy is to have all content fully updated.
His Email List
I have an email list of almost 8500 subscribers. While this might not seem like a lot for certain online entrepreneurs, I do have an engaged email list with an average open rate of 63% and a click-through rate of 8.41%
More often than not, some of my tours sell out with one single email, which means that a few emails can make me thousands of euros.
I used to have a much larger email list, but I have been trimming it over time, removing unengaged subscribers, and the results have been satisfactory.
Now I get around 500 subscribers a month, and this 2023, I want to increase it to 1000 a month. I'm working on that as we speak.
To manage my list, I use ConvertKit and forms across the website with lead magnets, such as downloadable itineraries not found on my website.
How Much He Works on His Business
It's very random.
When I'm traveling, which is around 6 months a year, I work 1 hour per day, just to answer emails and follow up with tours, but I don't do any blogging or strategy.
However, when I'm traveling with my family, we'll stop in a certain location every X days for 2 or 3 days, so I can get some more work done, but I don't follow any pattern.
When I'm in Barcelona, there are certain weeks when I work no more than 20 hours and weeks when I work more than 60. It just depends on my motivation and specific plans for that particular week.
Joan's Favorite Resources and Tools
I don't use any special resources nowadays, but when I was very much into blogging, Digital Nomad Wannabe was an excellent source of information for me.
As for tools, I use ConvertKit for email marketing, KeySearch for finding keywords, and Google Analytics for site traffic and demographics.
His Biggest Challenge
My biggest challenge was taking the big step of being a blogger who spent his time posting travel tips on the internet to organizing actual trips where some of those readers could join.
It was one of the scariest things ever, that kind of fear you have, like when you need to present or give a talk in front of hundreds of strangers, but way worse.
Fortunately, everything went well, and 6 out of 8 people from that first tour joined me on other expeditions.
Joan's Main Accomplishment
My greatest accomplishment is being able to have freedom.
I have been told by many people that running a business on the one thing you love the most must be extremely rewarding.
It's true that traveling is my number 1 hobby, and believe me, I love what I do, but at the end of the day, blogging, writing articles, answering emails, and running tours is just work. Like everyone else, I'd rather be traveling around the world without a laptop.
However, I don't work a lot of hours, I work whenever I feel like it, I take several months a year of vacations, and I am location independent, and those are the most valuable things for me.
What He Wishes He Knew When He Started
Well, I have had an email list from the beginning, but it's only recently, around 2021, that I began applying a proper strategy.
I wish I had done this from the very beginning! My list of subscribers would be huge by now!
His Biggest Mistake
The biggest mistake I have ever made was not giving enough importance to social media.
My tours sell out thanks to a proper SEO strategy and an engaged email list. Still, I barely make any sales from Instagram or Facebook, not only because I don't have a huge list of followers but also because I am not consistent with it, and this is a big mistake.
His Advice for Other Entrepreneurs
Do have a proper marketing strategy and, if you have a good selling idea but have zero marketing knowledge, do invest in hiring a good marketing consultant to help you define your brand, target, and strategy.
Unless you find a very unique, relatively empty niche, most markets are oversaturated and, unless you create an appealing voice that certain consumers may identify with, building a business can be tough.
Of course, a good marketing strategy won't be very useful unless you offer a good product or service, work hard, and are consistent.
Want to learn step-by-step how I built my Niche Site Empire up to a full-time income?
Yes! I Love to Learn
Learn How I Built My Niche Site Empire to a Full-time Income
How to Pick the Right Keywords at the START, and avoid the losers
How to Scale and Outsource 90% of the Work, Allowing Your Empire to GROW Without You
How to Build a Site That Gets REAL TRAFFIC FROM GOOGLE (every. single. day.)
Subscribe to the Niche Pursuits Newsletter delivered with value 3X per week