Content Pit Review: Is it Possible to Find Fast, Inexpensive, and High Quality Content?
When you buy something through one of the links on our site, we may earn an affiliate commission.
There's an old joke among freelancer writers:
Fast, high quality, and inexpensive. You can pick two.
Content creation is one of the most difficult parts of building out a website. In this Content Pit review, we're going to look at whether Content Pit can provide fast, quality, and inexpensive work for your site.
Good news: Content Pit has given Niche Pursuits readers 30% bonus words. You can click here and enter code NPREADER30 to claim your 30% bonus words on any order.
Get 30% bonus words using Content Pit
---
Content Pit Review
Quality -

90

Speed -

100

Price -

100

Customer Service -

100
Pros
High quality content
Fast turnaround time
Not pricey
Great customer service
Cons
Not the highest quality content. You could find someone a little bit better for 2x the price.
Content Pit Pros
Content Pit does a lot of stuff right. Here are some of the pros to using their service:
High Quality Content
Content Pit has done a great job of improving its service since it started back in 2018. Their first few months were fine, but they've come into their role since then.
Later on down the post, we compare some of their first pieces of content with some of the more recent content. The differences are enormous. Right now, Content Pit is producing as high quality content as you can get for the price.
I've been very impressed with how good the content is for what I've paid.
Awesome Guarantees
It's pretty tough for affiliate marketers to find guarantees among content agencies. And it makes sense: how can they offer you your money back once you have the content in your hands?
But Content Pit finds a way to do it.
We discuss their guarantees in more depth later on, but Content Pit has a money-back guarantee, a response time guarantee, and an unlimited revisions guarantee.
Fast Turnaround & Good Price
I joked above that if you had high quality, fast turnaround, and a good price, you could choose two. But Content Pit is a content writing service that does a good job of balancing all of that so you aren't left with slow, expensive, or bad content.
Their quality isn't journalist-level, but it's good for affiliate marketers, and it's getting better. That doesn't cause turnaround times or prices to suffer.
I do some math below, but here's the short version:
Content Pit offers inexpensive content that doesn't suffer a quality drop. And as long as you are ordering more than 2000 words, they work about as fast as a full-time freelance writer.
I think that Content Pit does a great job balancing price, quality, and speed.
Content Pit Cons
Content Pit is awesome, but they aren't perfect. Here is the one con I could find to using Content Pit:
Can Sometimes Tell That Writers Aren't Native English Speakers
Content Pit doesn't stick to just native speakers. They test freelance writers worldwide, and the best English speakers get additional training.
As said before, the content is good. Very good.
But it's not perfect.
Every now and again, I'll spot a word or phrase that a native English speaker wouldn't use. Most people might not even notice it, but it sticks out to my professional writer self :)
These weird phrasings or small errors are pretty minor, so I wouldn't worry about it. I would run all your articles through HemingwayApp and correct most of the suggestions. It shouldn't take more than 10 minutes.
Overall, I think Content Pit offers an awesome balance between speed, price, and quality. I use them for my affiliate websites, Spencer uses them for his site, and I don't think you should be afraid to use them for yours.
You can click here to get fast, high quality, inexpensive content from Content Pit
Use Content Pit for your site's content
Users of Niche Pursuits get 30% bonus words on their first order. Use code NPREADER30 at checkout to claim your bonus
Content Pit Review
We'll start by looking at Content Pit's content quality. Then we'll go into the guarantees they offer, the price, and the speed of delivery.
Content Pit Quality
As a professional and full-time writer, I'm a stickler when it comes to content. I expect a lot from paid content.
So if there's anyone who's going to be critical of a content writing service, it's going to be me.
To test Content Pit's quality, I'll show you some examples on Spencer's Niche Website Project 4 and then talk about my personal experience with Content Pit.
If you go to OwnTheYard.com, look for any post written by Bryce Carter. These are the posts that Content Pit wrote for Spencer.
I'll be judging the content creation based on a few criteria:
Short sentences
No "walls of text" - short paragraphs are ideal
Natural language
Reading level - 5th-8th grade ideal
Instead of reading through the whole piece, I'm going to copy and paste the content into HemingwayApp. It's a free tool I recommend for anyone who writes or edits content. It helps you analyze and diagnose.
Let's look at one of the oldest posts and one of the newest posts.
The first post we're going to look at is about the best in-ground basketball hoops.
Right off the bat, Hemingway editor tells us that there are a few problems with this post:
The readability level comes in at 9th grade, and that's a little high for my taste. 5th grade to 8th grade is about where I like mine.
No problem. That's an easy fix.
The adverbs, passive voice, and simpler alternatives aren't too big of an issue. The biggest problem I see here is that there are a lot of "yellow" and "red" sentences. This means that sentences are too long and need to be broken down.
Here's what the intro looks like:
That's a lot of red.
But these sentences aren't too hard to fix. Once I add a couple of periods...
I cut out a little fluff, shortened a sentence or two, and added some much-needed punctuation. Now our sentences are looking just right.
The rest of the article has similar issues. Sometimes whole blocks of text look like a computerized rainbow of grammatical errors: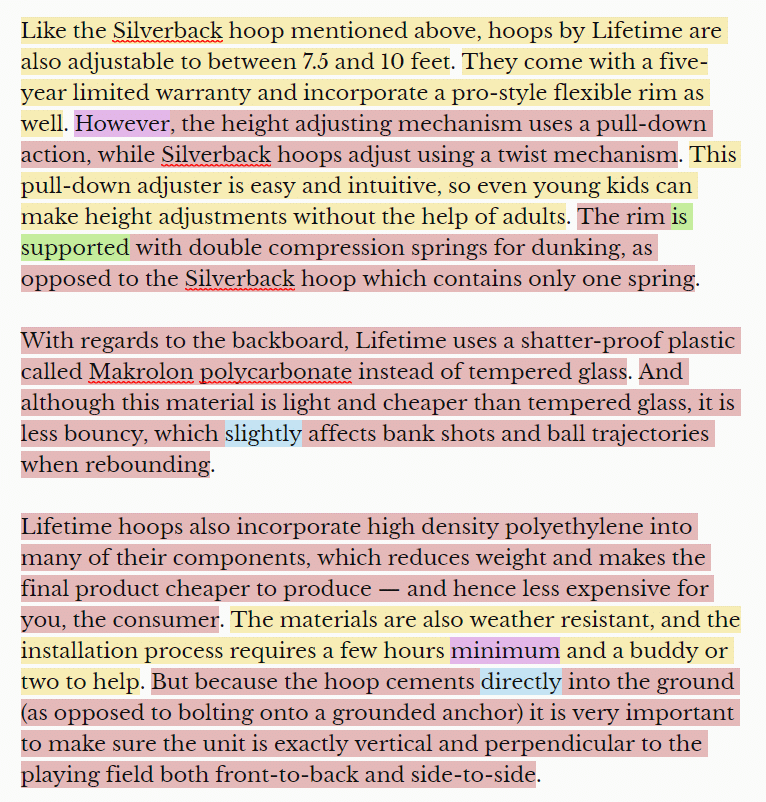 So not always exceptional website copy. But then plenty of the content looks just fine. These red and yellow problems don't take more than a second to fix. I bet I could edit this whole article in under 10 minutes.
That was one of the first articles that Content Pit wrote for Spencer. But what about the newer content? Has Content Pit upped its game in the past year?
Content Pit Review Update
I'm happy to say that I think the newer content is much better. And Hemingway agrees with me:
The writing level is 8th grade, and you can see right off the bat that there are far fewer yellow and red sentences. The first article we looked at had about half red or yellow sentences. This one has about a quarter.
Some whole chunks of text are pretty much perfect:
I'm not a big fan of adverbs and don't use them. Content Pit does, but so do 95% of all freelance writers in the world (many of them better writers than I). I can't count that against Content Pit.
The content that Spencer got from Content Pit is good. The later pieces of content are very good. And my own experiences have reflected this.
I ordered 100,000 words from Content Pit a while back and asked them to batch it into 4 different submissions. Each submission had about 25,000 words to it.
The first submission was fine. A couple of content pieces were unusable.
The second submission was good. I used all of the content, but some required more editing than others.
The third submission was great. I used everything with light editing.
And I'm going to get the fourth submission soon ;)
I reached out to the Youssef, the owner of Content Pit and a former writer here at Niche Pursuits. I asked him how they were improving the content so fast.
Here's what he told me:
We basically follow an iterative process. Writers go through a few phases before getting hired and our editors do more of a "mentor" role. So instead of just fixing articles and moving on, they add insightful comments for writers to actually learn and improve over time.

We take client feedback and iteratively refine these processes. We've modified our initial filtering criteria as well as our editing processes and added what is known internally as "ZTMs" or "Zero-Tolerance Mistakes" to eliminate writers who are caught doing something extreme like plagiarism.

You'll still inevitably get some lower quality articles every now and then, of course, but the writers causing the issues will either be put on an improvement plan or be let go. You also get free rewrites for any "disastrous" articles and free edits as needed.

We aim to continuously iterate over these processes as we hire more and more writers, while constantly improving/eliminating subpar writers, to hopefully have a huge "All A-Team".
In my own experience, I can see the efforts they've made. The content I'm getting now is coming in at a consistent high quality. It's not fluffy, there aren't too many adverbs, and the sentences don't make my eyes bleed.
But here are a few things I've learned about getting higher quality content out of writers:
How To Get The Most Out Of Content Pit (And Anyone Else Writing For You)
Freelance writers don't always know what's expected of them and are often forced to lean on a best guess. If you ever have writers working for you, here are some things I recommend:
First, have a set of standard operating procedures (SOPs) for your freelance writers. These should include the tone of your website, the audience, the article structure, and any specific writing instructions. I give my writers a list of the words they are never allowed to include when writing content. All cuss words, any word that doesn't add value, and the words "In fact", "Actually", or "Moreover" are all banned.
Second, have detailed article templates for each "type" of article.
My article "types" are buying guides, info articles, and how-to guides. Each of these has a template explaining how to structure the article. I explain that bullet points are awesome for the how-to guides but maybe not the buying guides. I tell them to keep intros under 50 words and conclusions under 100.
Your article templates should include examples of exceptional website copy. Your template should not spell everything out for your writer.
The sweet spot here is to give an article template without telling your content writer what to say. You want to tell your writer how to say it, but not what he or she should say. That will help you get a little extra mileage out of anyone producing content for you.
This is especially true if you're an enterprise or small business looking for exceptional website copy for your corporate blog. If you find a good solid freelance writer, let them put the pieces together when they're writing content. Avoid boring corporate announcements and get the most out of your freelance writers.
Content Pit Guarantees
Content Pit offers several guarantees on its website. The guarantees can be summed up like this:
48 hour response guarantee: Content Pit will respond to any messages within 2 business days. They take Fridays and Sundays off, so you might even get a response on weekends.
Unlimited revisions guarantee: Content Pit allows you to request an unlimited number of revisions within 3 business days of your order being completed. If you have a large order (over 10,000 words), you can request an extension of up to 7 business days to review your order. The only caveat here is that Content Pit can reject the revisions if the revisions will exceed 20% of the total time it took to finish the article. In my experience, Content Pit has done an awesome job of revising content.
100% money back guarantee: Content Pit will refund your money for an order within 30 days of you receiving the order. To avoid abuse, any refunds lose the rights to using the content.
I think that Content Pit puts itself at a lot of risk with these policies guarantees. But they are great to see from a client perspective. With guarantees like unlimited revisions and money back, these guys must be super pricey, right?
Well... no.
Content Pit Pricing
Content Pit has a pricing structure that I appreciate. The more words you buy, the less you pay per word.
Here are the prices as of August 2022:
A few things I want to point out here:
First, we should always calculate content cost by the price per word.
Second, the price per word on Content Pit's most expensive plan (1000 words) is just $0.049 per word. That is much less than many competitor prices. If you go all the way up to their highest tier plan of 100,000 words, you're looking at $0.03899 per word.
That isn't bad at all. And for the level of quality, I'd put that pretty close to an almost unbeatable price.
The article speed isn't too bad either. It's reasonable to expect 2,000-2,500 quality words per business day from a freelance writer (after that, the quality drops a lot). Once you get past 10,000 words, Content Pit's turnaround time (TAT) is about equal to what you'd get from a freelance writer.
All things considered, Content Pit does well at offering pretty high-quality content at a great price and a reasonable speed. Coupled with their unlimited revisions guarantee and money back guarantee, it's tough to get more value at less risk for your content.
You can click here to get fast, high quality, inexpensive content from Content Pit
Use Content Pit for your site's content
Users of Niche Pursuits get 30% bonus words on their first order. Use code NPREADER30 at checkout to claim your bonus
Who Is Content Pit Best For?
Content Pit does a great job at offering high quality content without charging an arm and a leg for it. The content doesn't always read like it was produced by a native English writer, but 90% of the time it is perfect.
I would recommend Content Pit to a pretty wide group of users:
Anyone who needs content for their blog that is great but not perfect.
I think Content Pit is a great for for your average site builder or corporate blog, for affiliate marketers, for pretty well anyone who runs a website.
It's easier to describe when I don't think you would benefit from using Content Pit.
Content Pit gets you 90% of the way there, but they don't substitute for a very high-quality professional content writer. If you need the highest quality and can pay the big bucks ($0.10 to $0.30 per word), then I don't recommend Content Pit.
It might be smart to find one excellent freelance writer to write your skyscraper posts. But a "normal" info post? A review or buying guide?
Content Pit is right up your alley.
Spencer uses them for Niche Website Project 4 and he passed the $1,000 per month mark in less than a year. I use them for my own affiliate site.
Unless you're looking for the absolute highest quality, Content Pit will be fine. They are the Pareto principle of writing: 80% of the quality at 20% of the cost.
content pit review: Frequently Asked Questions
Now let's cover some questions that often come up about Content Pit.
Who Writes My Content?
Content Pit uses writers from all over the world to write their content.
That could throw up some red flags with people, but Content Pit does a great job of screening, testing, and improving their writers. That doesn't mean that everyone will be a 5 star, 10/10 writer capable of creating exceptional website copy. But Content Pit uses non-American writers to bring their prices down while still providing a ton of quality.
What Topics Can Content Pit Write?
Content Pit can write about any topic that can be researched. That said, there are a few things that they will never write:
Anything illegal (hacking, piracy, drugs, violence, etc.)
Adult topics (pornography, betting, casinos, etc.)
Anything related to drugs or alcohol
Spiritual or religious topics
As long as you aren't an affiliate marketer in one of those niches, Content Pit can take care of you.
What Is The Editing/Proofreading Process?
No content writer is ever allowed to send anything to you without it being checked by the Content Pit proofreaders and editors.
When an article is completed, it is sent to an editor. The editor checks for factual or grammatical errors in the article. If the editor isn't 100% satisfied, the article is sent back to the content writer for fixes.
If the editor deems necessary, the article can be sent to a different freelance writer at no additional cost to you.
Each piece of content is run through a plagiarism checker before being given to you. Once the editor is satisfied with the content, it's sent to you for the final check.
You have 3 business days to approve or request edits. If your order is over a few thousand words, you can request an extension of up to 7 business days to give you time to check over everything.
content pit review: Your Site's Content
Content Pit does a great job at combining price, speed, and quality. I use them for my site, Spencer uses them for Niche Website Project 4.
I recommend setting clear templates and standard operating procedures (SOPs) without being restrictive. Don't tell your freelance writer what to say, but how to say it.
You can click here to get fast, high quality, inexpensive content from Content Pit
Use Content Pit for your site's content
Users of Niche Pursuits get 30% bonus words on their first order. Use code NPREADER30 at checkout to claim your bonus
Want to learn step-by-step how I built my Niche Site Empire up to a full-time income?
Yes! I Love to Learn
Learn How I Built My Niche Site Empire to a Full-time Income
How to Pick the Right Keywords at the START, and avoid the losers
How to Scale and Outsource 90% of the Work, Allowing Your Empire to GROW Without You
How to Build a Site That Gets REAL TRAFFIC FROM GOOGLE (every. single. day.)
Subscribe to the Niche Pursuits Newsletter delivered with value 3X per week