17 Blog Title Examples Guaranteed to Boost Your CTR
When you buy something through one of the links on our site, we may earn an affiliate commission.
Check out these blog title examples before you hit publish on your next blog post, or you could lose 80% of your potential readers in a blink.
You might think the key to writing the best-performing blog posts of all time is a combo of keyword research and excellent witticisms. In fact, you'd only be about 20% right.
Really, the key to successful content marketing is not just good blog titles but great blog titles. A catchy blog title can increase your click-through rates (CTR) by more than you'd expect.
But don't panic if stressing about writing blog titles causes you to break out in hives; here are a few blog title examples to get you started off on the right foot.
No time to think up great blog titles?
Luckily, there's an easy way to come up with better headlines to help you stand out amongst the sea of search engine results. All you have to do is simply check out Jasper.ai's perfect headline template to help you generate well-performing blog post titles.
1. List Titles

Some of the most successful blog titles are super easy to write. For example, simply consider your content format and present that in the title. List posts are ever-present on the Internet and never get old. To name your next list post, all you have to do is stick a number in front of it and include your target keywords.
Bonus points if, like in the example above, you include power words like "Best".
Examples:
10 Top Tips for Cutting Your Hair at Home
9 Lunch Spots in San Francisco You Can't Miss
2. How To Titles

Another oldie but a goodie, the classic "How To" title lets readers know exactly what they can expect from the article. It's a great way to immediately appeal to your target audience, and while it might not be the most catchy title around, it's one of those solid title templates you can rely on when it fits the content format.
Examples:
How to Potty Train a 2-Year Old
How to Stop Waking Up in the Middle of the Night
3. Guide to Headlines

Whether it's the "Ultimate Guide", the "Beginner's Guide", or the "Step-by-Step Guide", these are more blog title examples that are sure to increase your click-through rates.
Beginner's guides signal immediately to the reader that the content should be approachable even if you aren't an expert in the subject.
Examples:
A Practical Guide to Your First Time Flying with Kids
Beginner's Guide to On-Page SEO
4. No One Will Tell You Titles

Looking beyond just content format, sometimes you need to think of creative ways to draw readers in. One way to do this is using the phrase "things nobody told/tells you about". Immediately, you'll make your readers feel like they are getting information that is not readily available and appeal to their curiosity.
Examples:
Here's What No One Told You About Getting a College Degree
3 Things No One Will Tell You About Buying a House
5. Why X People Do X

Another way to pique curiosity from your readers is to use the example of someone they know or a kind of person they are likely to admire based on their search.
Examples:
Why Successful People Wake Up Early Every Morning
Why Beyonce Doesn't Eat Red Meat
6. Where, What, Why Titles

People turn to search engines for answers. Blog titles with where/what/why/etc. in the title are answering a question that is being asked.
Examples:
Where to Buy Your Japan Rail Pass
What We've Learned From 9 Trips to Mars
7. Mistakes to Avoid

Most of us have an inherent fear of failure. This is why we see a lot of blog title examples with the phrase "mistakes to avoid" which perform really well because they speak to that fear and offer us a solution.
Examples:
12 Mistakes to Avoid When Becoming an Affiliate Marketer
3 Mistakes I Made When Travelling to Japan
8. Here's Why

Simple and yet oddly poetic. You can use the phrase "here's why" either at the beginning or the end of your blog post title, and it really adds a little extra something that helps draw readers in.
Examples:
Men Are Sitting Down to Pee. Here's Why
Here's Why Your Water Filter Needs Replacing
9. Stop Doing This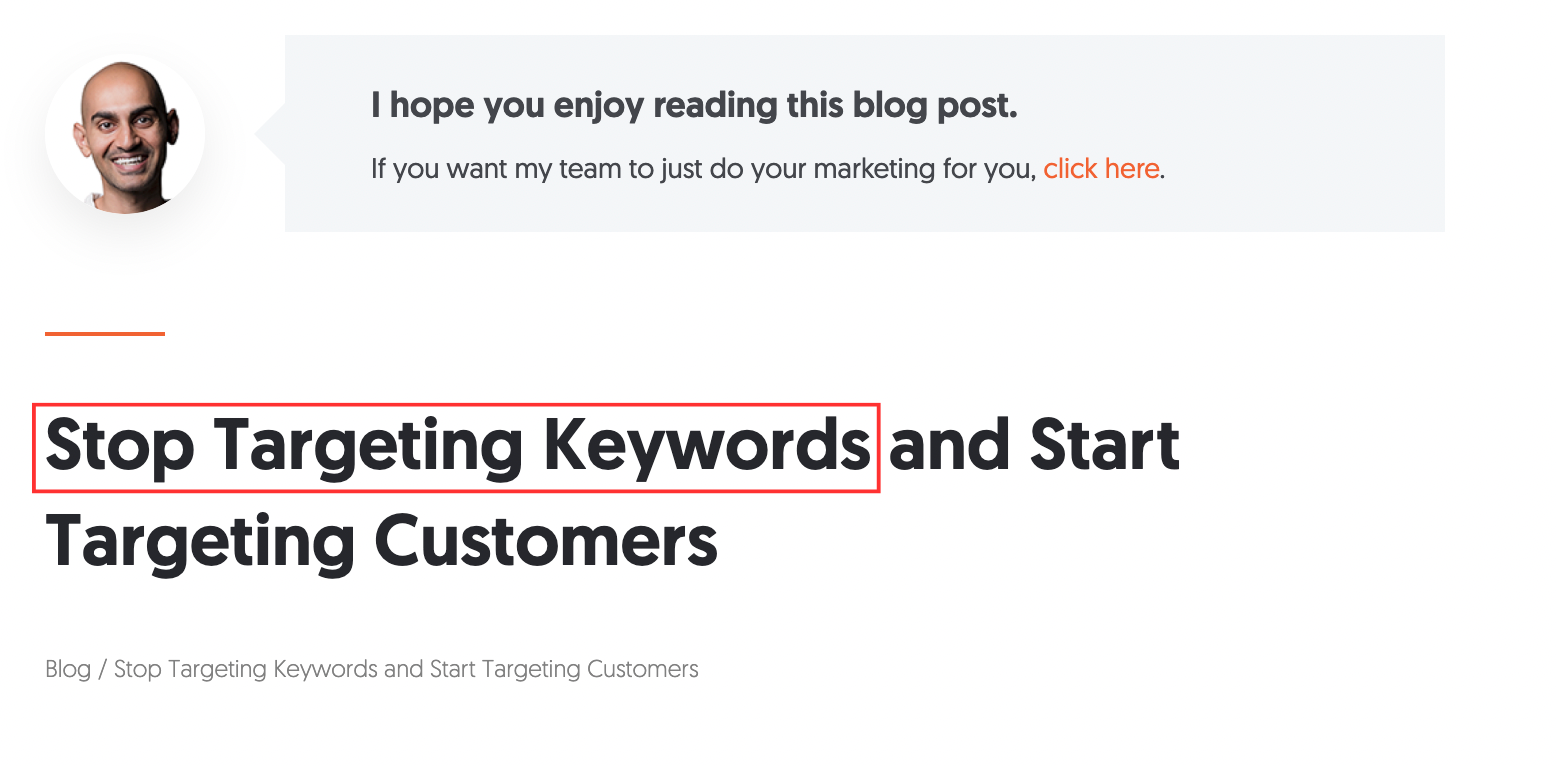 If it's good enough for Neil Patel, it's good enough for the rest of us. A great way to stand out amongst search results is to try telling people what they should stop doing instead of telling them what they should start doing (or do both like Neil).
Examples:
Stop Washing Your Hair Everyday
Stop Dreading Surviving Off Instant Ramen
10. VS Titles

As far as title templates go, this is the easiest one to follow. A simple vs comparison is great for the right kind of blog post. It's concise, clear, and lets the reader know exactly what they're in for.
Examples:
Retrievers vs. Labs: What's the Difference Between Dog Breeds?
WordPress.org vs. WordPress.com
11. Everything You Need to Know

The cousin to the "ultimate guide" headline is the "everything you need to know" title. In fact, often times you'll see both title templates combined to form a great title. Something like "Your Complete Guide to AI: Everything You Need to Know About Artificial Intelligence".
Examples:
Everything I Wish I Knew Before I Went Solo Travelling
Beginner's Guide to SEO: Everything You Need to Know About Search Engine Optimization
12. Backed By Science Titles

A great content marketing hack is to back up your blog post ideas with actual facts, figures, and science. As credible as a source you may be, people will always be comforted by irrefutable, cold, hard science.
Our natural learning bias will make us more inclined to click a blog post title claiming scientific research over other search results.
Examples:
Why Science Says We Should Drink Red Wine
6 Scientifically Proven Ways to Clear Skin
13. The Only Headlines

Another classic blog headline that you've likely come across before, the "Only" headline makes for a great title to demonstrate exclusivity.
Examples:
The Only Task Manager You Need to Work Remotely
The Only Book Small Business Owners Should Read
14. Devil's Advocate

Some of the best blog titles are the ones that stir up a bit of controversy. They immediately stand out from other articles in search results simply because they don't compute with the expectation.
Examples:
Why You Don't Need to Make Bathtime Part of Your Baby's Nightly Routine
Working Out is Killing You—Science Says So
15. Direct Answer Headline

Sometimes getting straight to the point is the best thing you can do. Consider what question your blog post answers; what information are your readers looking for when they put something into Google? Then answer it right in your headline.
Examples:
The Burj Khalifa is the Tallest Building in the World. Here are the 10 Runners-Up
Can You Make a Living on YouTube? Sure, But It's Not as Easy as It Looks
Note that you don't always have to include the actual question in your title. The answer is the important bit, followed by some kind of lead that will entice your reader to want to know more.
16. Make My Life Easier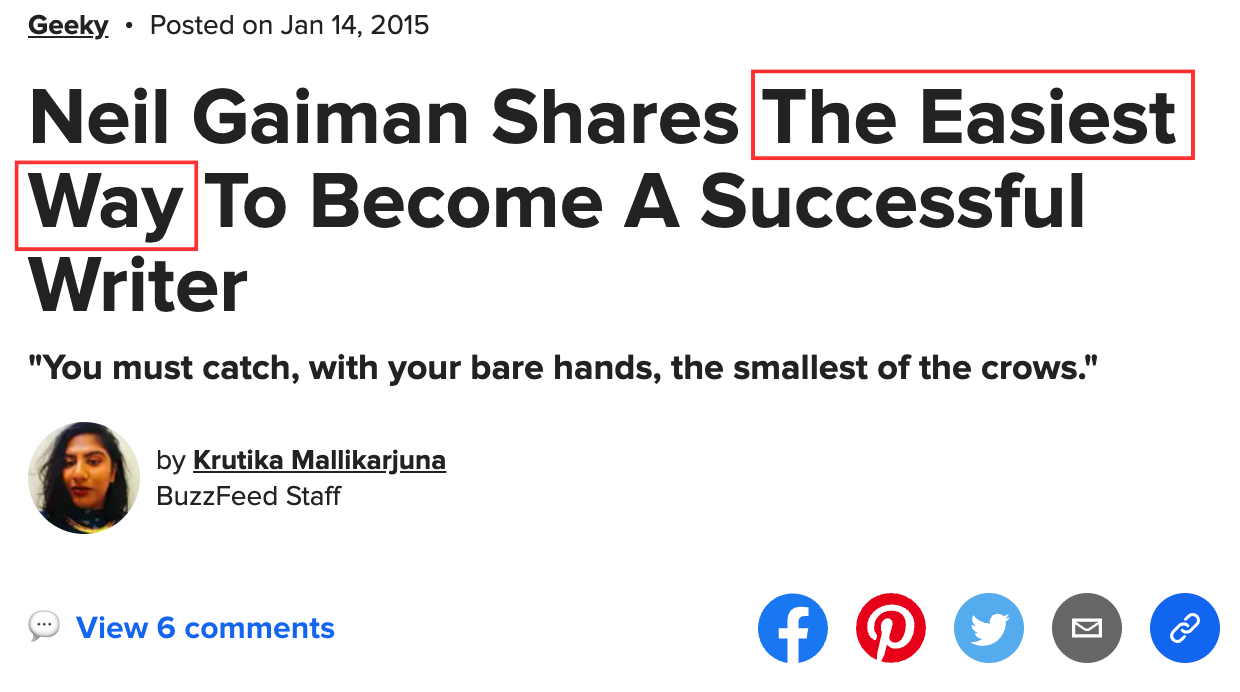 If there's one thing all of humanity has in common, it's that we're all looking for the easiest way to go about our lives. Blog headlines promising to simplify or quicken a task perform so well due to this common trait.
We can't resist the temptation of less work.
The key here is words like "easy", "quick", "simple", "effortless", etc.—you get the deal.
Examples:
Simple Ways to Spruce Up Your Home on a Budget
Quick and Easy Ways to Make Money From Home
17. Click Bait Titles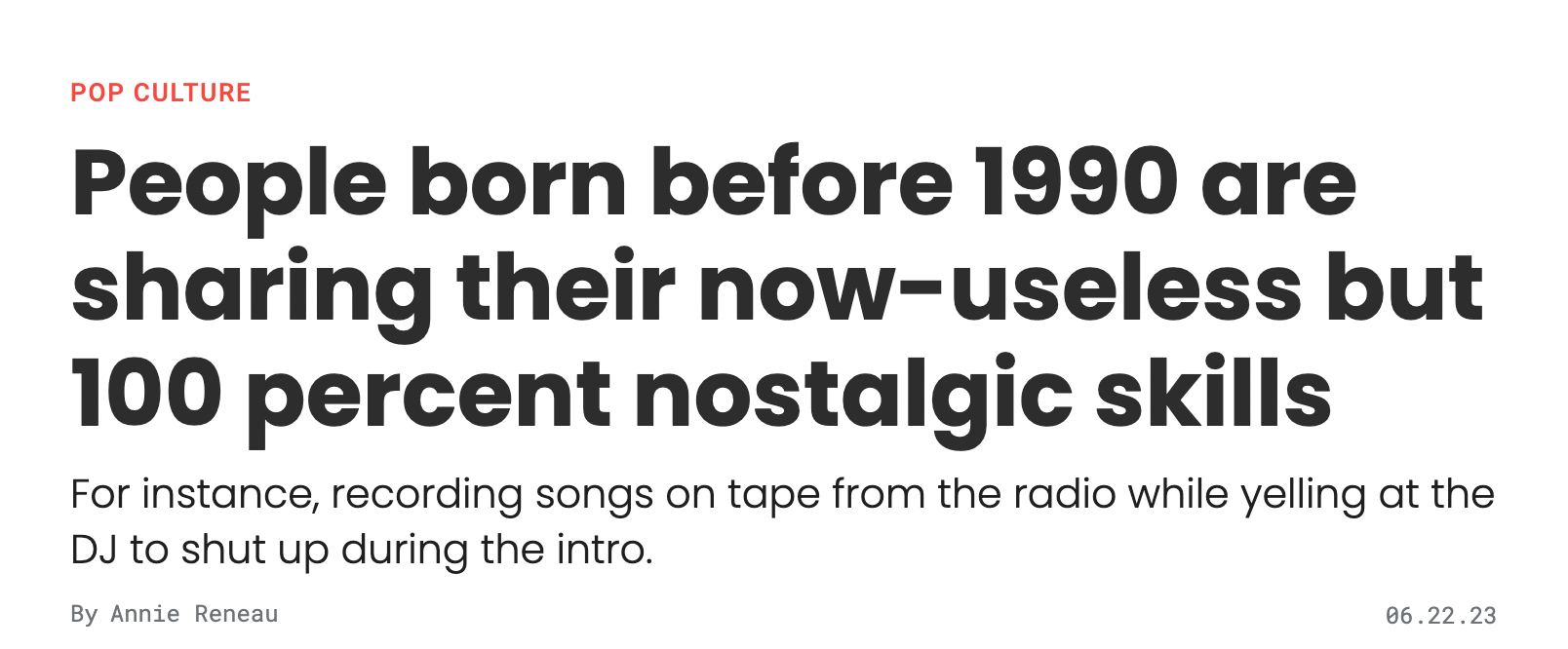 Of course, no list of blog title examples would be complete without mentioning clickbait titles.
Above is a more moderate example of clickbait. Rather than the typical over-the-top, sensationalized, frankly ridiculous headlines of some clickbait articles, this one teases your curiosity just enough that you'll click through to read it (and if it doesn't, you obviously have no sense of culture).
The secret to good clickbait titles is to pique interest and then deliver in your content. The biggest mistake you can make is to write a catchy headline that has absolutely nothing to do with what's actually in your blog post.
Examples:
Man Investigating Suspicious Scammer Emails Leads to Him Changing the Lives of Two People
Childless People Over 50 Are Honestly Reflecting on Whether They Made the Right Decision
How to Optimize Blog Titles for Readers & SEO
Right off the bat, when you're brainstorming ideas for catchy blog post titles, there are three things that you want to keep in mind.
Match Search Intent. You want your blog title to align with what people are searching for. For example, a quick Google search for 'SEO tips' and you'll notice all the top hits are about boosting ranking. Therefore, a blog title that mentions higher rankings will resonate with the audience you are trying to reach.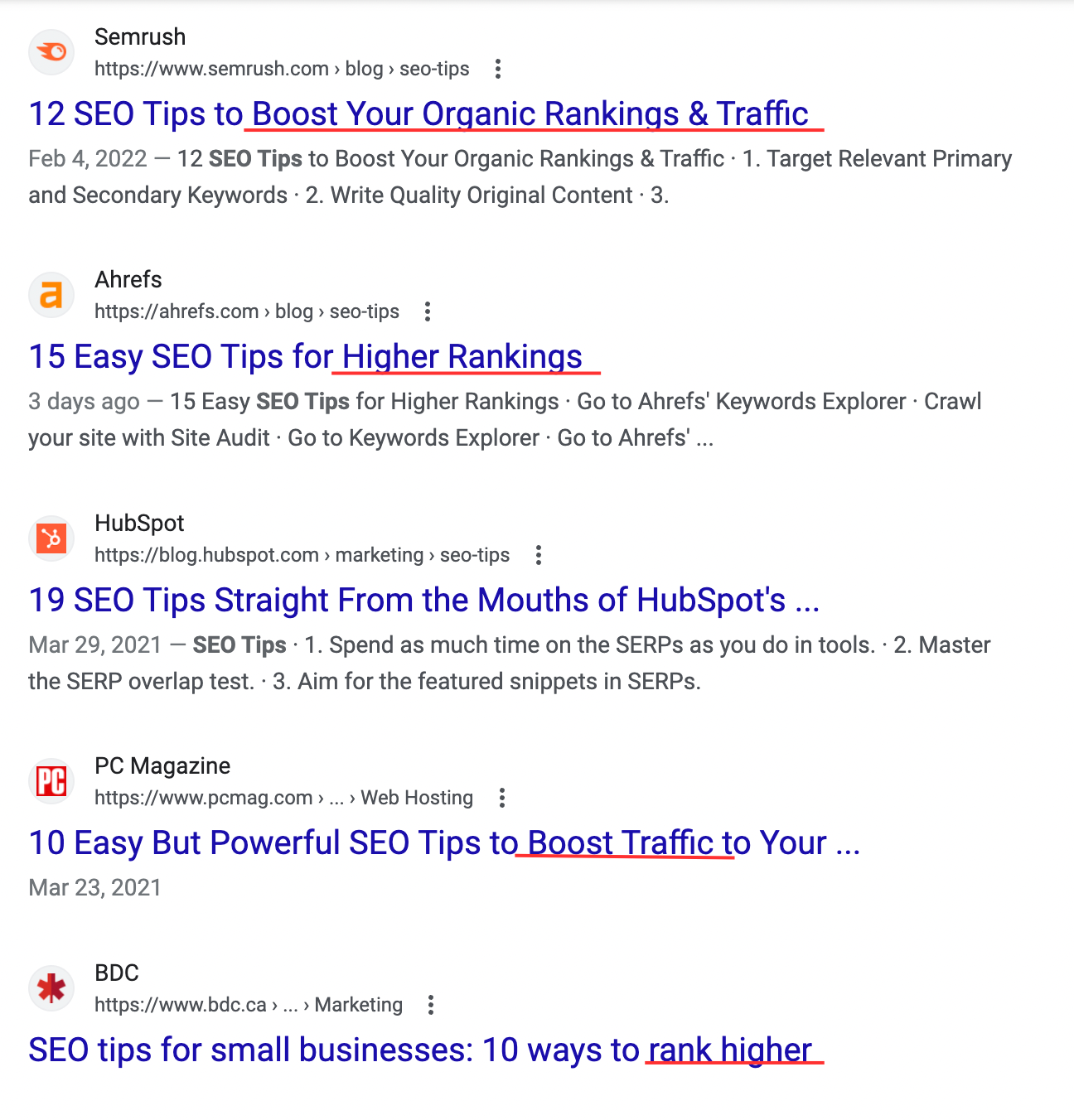 When looking to match search intent also consider the following:
Do the headline examples include dates? The readers are probably looking for the most up-to-date info and fresh content.
Do they mention words like "quick" or "easy"? Readers probably want a fast fix.
Lastly, are the blog title examples aimed at beginners? This could mean the topic is most searched for by people looking for complete guides.
Offer Value. From your blog post title alone, the reader should be able to discern what the article is about and what they will get out of it. Don't be vague.
Present a Unique Angle. One way of standing out on search engines is to offer a unique angle on a topic. If all the top hits on search results say that the sky is blue, but your blog title says the sky is purple, people are going to click on your article to see what you're talking about.
Use Keywords
Obviously, keywords should make an appearance in your blog post title. Really, the closer to the beginning, the better, as this will signal your article's relevance.
Another tip is to optimize your title for long-tail keywords. When you find keywords that you want to target, go one step further and see if there are related long-tail keywords that you can use to really hit your target audience.
Limit Titles to 50-60 Characters
The ideal length for a catchy blog title is 50-60 characters. This is long enough that you make use of all the space search engines give you but short enough not to get cut off.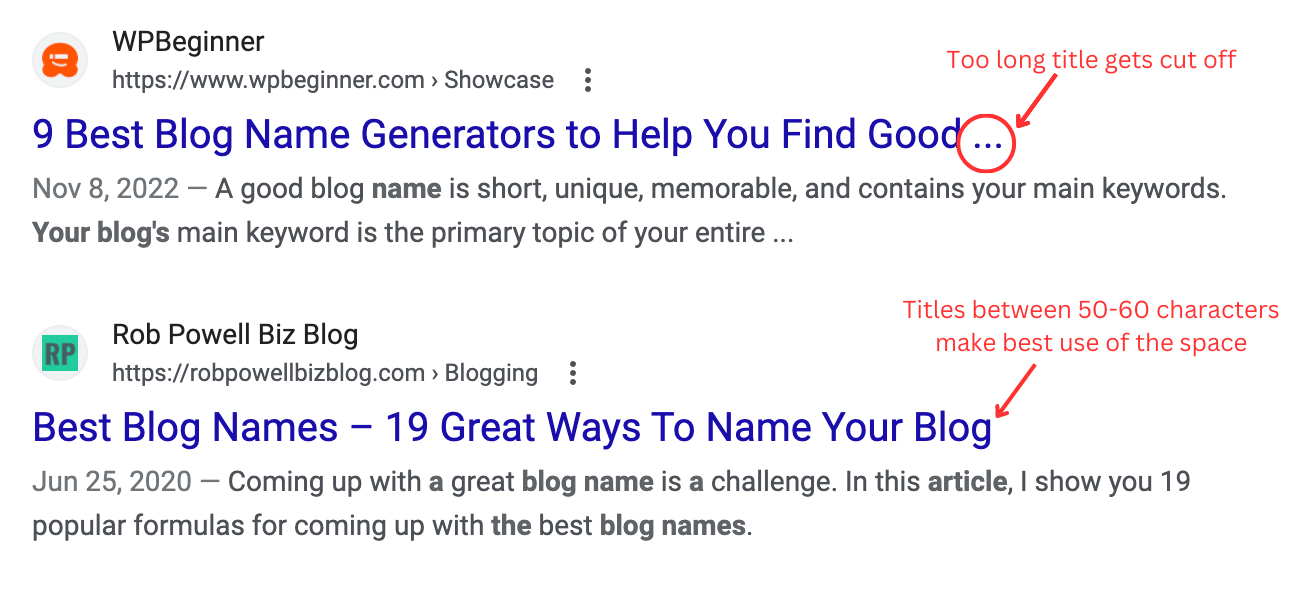 Add a Date to Your Title
If you're using a tool like Yoast, you can add %Current Year% to your title to automatically populate with the current year (this means your article title will read "Best Dog Toys in 2023" until next January, when it will automatically read "Best Dog Toys in 2024" without you having to update your article).
If you use Rank Math, you can go one step further and use %Month, Year%, which populates the current month and year for readers.
This makes your article look fresh and up-to-date for readers and can be especially beneficial in review-type blog post titles.
Supercharge Your Title with Power Words
And, of course, one of the best ways to appeal to your audience's emotional side is by using trigger words that invoke an emotional response. Certain words can make readers feel more compelled to click through to your content.
Some examples of emotional words you've probably come across before are:
Secret
Shocking
Easy
Free
Brilliant
Mind-Blowing
... and so on and so forth. Check out this helpful list from Optin Monster with over 700 power words to turn a good title into a great blog title.
Top Tools for Killer Blog Titles
Finally, there's no shame in needing a little extra help when it comes to trying to write catchy blog titles. Here are some useful tools to help you come up with better headlines:
Jasper.ai - AI tools are great for coming up with ideas and tweaking suggestions to get the perfect blog title. Jasper even has a specific headline template for helping develop titles for content marketers looking to boost conversion.
CoSchedule Headline Analyzer - One of the best headline analyzers out there, this tool will let you know how you can improve. Basically, you type in what you think is a great blog title, and it will let you know what works and what doesn't.
Kickass Headline Generator by Sumo - If you're totally stuck for ideas, this headline generator can take a few keywords and turn them into catchy blog titles at the click of a button.
Blog Title Examples: Final Thoughts
Hopefully, these blog post title examples have inspired you to write catchy headlines that will, in turn, inspire your readers to click on your article.
Want to learn step-by-step how I built my Niche Site Empire up to a full-time income?
Yes! I Love to Learn
Learn How I Built My Niche Site Empire to a Full-time Income
How to Pick the Right Keywords at the START, and avoid the losers
How to Scale and Outsource 90% of the Work, Allowing Your Empire to GROW Without You
How to Build a Site That Gets REAL TRAFFIC FROM GOOGLE (every. single. day.)
Subscribe to the Niche Pursuits Newsletter delivered with value 3X per week